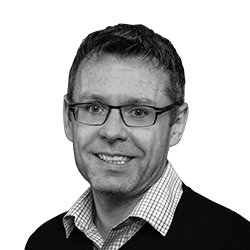 Dougie McMichael is Vice President of Hess' global onshore production business. In this role, he is responsible for upstream activity related to Hess' North Dakota Asset and the company's business operations in Libya.  Immediately prior to this role, Dougie led the Hess Bakken Well Factory team in North Dakota, which was accountable for reservoir development of Hess' acreage.
Dougie has 28 years of E&P industry experience in technical, planning and leadership roles. He has worked in the United Kingdom, Denmark, Malaysia and the United States. Dougie also led Hess' business activities in West Africa.
He began his professional career as a reservoir engineer with Chevron in the UK and following roles with Edinburgh Petroleum Services, and ExxonMobil he joined Hess in 2006.
Dougie holds a bachelor's degree in chemical engineering from the University of Strathclyde in Glasgow.  He is a member of the Society of Petroleum Engineers and an associate member of the Institution of Chemical Engineers.