In December 2019, the Project Production Institute hosted its sixth annual Symposium at the Four Seasons Hotel in San Francisco. Executives from a wide variety of companies such as Chevron, ExxonMobil, Google, Hess, IBM, McKinsey & Company, Merck, Microsoft and PG&E came together with researchers and academics from Stanford, Texas A&M and UC Berkeley, amongst others, to discuss how to resolve the global crisis affecting the engineering and construction industry through effective application of Project Production Management (PPM).
Day 1: Introduction to Project Production Management
To kick off the Symposium on Tuesday, December 3rd, PPI provided a full-day presentation called "Introduction to Project Production Management" for attendees who were new to PPM. The interactive session was designed to expose participants to the principles, methods and science behind PPM and was attended by more than 70 individuals from the energy, financial, technology and construction industries. Speakers Roberto Arbulu, Ed Pound and Dave McKay of PPI were joined by Wayne Crabtree and Craig Evans from Chevron to present real-world case examples to illustrate how PPM is effectively applied to capital project delivery.
During a parallel session on December 3rd, the PPI Technical Committee met to discuss next steps to further research and dissemination of Project Production Management. PPI Founder, Todd Zabelle, opened the meeting by giving historical context for the founding of PPI, and PPI Executive Director Ram Shenoy, PhD, presented an overview of the history of PPI research activities, along the three themes of Theory, Modeling and Control. Mark Spearman PhD, Chair of PPI Technical Committee, then presented an overview of the rationale for a Science of Operations, explaining the fundamental research questions on the interaction of buffers, and presenting some recent results. Amongst the general research areas considered as ripe for potential research are questions such as:
THEORY:
How to make more precise that Capacity is a 1st order effect and Variability is a 2nd order effect on production system performance?
How do we clearly explain production systems improvements in actual capital projects where actions result in less capacity and more throughput?
How does one convert rates into dates in a transient state across multi-echelon supply chains?
MODELING:
How do we use the 5 levers in modeling?
What models explain the science in layman's terms?
Can we do more financial/economic modeling of unintended consequences & what's possible?
Can we do some real data analysis of Advanced Work Packaging?
What information is needed from suppliers for effective production system modeling?
How can PPM bring visibility to indirect costs?
Is there a Production System Accounting basis?
How to better estimate project cost?
What should replace current project scheduling and monitoring methods?
How do we calculate the cost of WIP?
What is the relationship between the act of construction and compensation?
CONTROL:
What is the relationship between PPM and digital technologies?
How do production systems give true line of sight to the owner?
What policies should be included for transparency and control?
How do digital technologies and innovation in control light up the dark spots along a production system?
James Choo, PhD of PPI moderated two discussions and was joined by Ben Amaba, PhD PE and Chief Innovation Officer at IBM and Mark Spearman, PhD, Technical Director of PPI, to discuss the advancement and application of Operations Science, as well as the relationship between Operations Science and Artificial Intelligence / Machine Learning. A topic of much discussion involved the positioning of PPM with respect to AI and ML. Among the challenges that were debated included questions such as "Why does the same thing built now cost so much more than before?," a cynical view of the true value created by technical innovation. Finally, the session considered questions such as "where can we take humans out of the work to allow them to spend time on higher value-adding work?"
Professor Phil Kaminsky, PhD, of UC Berkeley presented research on supply chain management in onshore field development, the result of joint work with UC Berkeley graduate student and PPI Member Arman Jabbari. They considered the problem of modeling onshore field development where different resources have to visit well sites in sequence to develop wells from drilling to production. They showed a number of insights from applying rigorous optimization techniques, one of the most surprising being that artificially putting "common-sense" constraints such as limiting transportation times of resources resulted in very inefficient and long completion times.
Finally, Todd Zabelle led a discussion about IoT in Support of PPM. After reviewing some definitions, he led the audience through an examination of future scenarios where production systems instrumented with IoT sensors provided capabilities of monitoring and control far superior to what is achieved today. The Technical Committee annual meeting wrapped with Dr. Shenoy presenting future directions for the 2020 PI research program.
Day 2: 6th Annual PPI Symposium
On Wednesday, December 4th,  Ram Shenoy welcomed the 135 attendees to the 6th Annual PPI Symposium and outlined the topics of discussion for the day. The day was comprised of two tracks, anchored by a plenary "Call to Action" by Gary Fischer of Chevron and a keynote on Neuroscience by Dr. Anil Seth of the University of Sussex.
Gary Fischer, General Manager of Special Projects for Chevron Corporation, was introduced as the plenary speaker. During last year's Symposium, Fischer shared the story of his personal journey to transform Chevron's capital project management system through the application of Project Production Management (PPM). To kick off this Symposium, Mr. Fischer gave a rousing Call to Action speech by sharing learnings over the last year in the journey to transform the company's capital project management system through the application of Project Production Management (PPM).
Fischer cited benchmarking data that indicated that only 24% of projects met cost and schedule targets and only 14% met cost, schedule and expected production targets. By implementing PPM, Chevron is experiencing 50% better productivity with project and production control, accomplishing the work with fewer people fundamentally. In addition, Fischer estimates that the work is being completed in roughly half the time than previously.
Finally, Fischer presented his vision of the project of the future, which looks radically different from the project of today, with design being done by machines, supported by people for special issues and topics. Engineering could be collapsed from years to just a few months, delivering a major benefit to profitability. He envisions the supplier base working together significantly differently as well, in one digital environment. In closing Fischer told participants that PPM is the foundation to the "project of the future – and that it's closer than you think."
The lunchtime keynote address, "How Things Seem Is Not How They Are," was presented by neuroscientist Anil Seth, PhD. Dr. Seth is a professor of Cognitive and Computational Neuroscience at the University of Sussex and founding co-director of the Sackler Centre for Consciousness Science in the UK. He provided an overview of the work he has done at the Sackler Centre and presented findings from experiments on how the brain forms perceptions of the outside world and the impact that this has on an individual's mental models. People "see what they expect to see" and this is why change can be so difficult. Citing Gary Fischer's earlier plenary, Dr. Seth stated that change requires leaders to think and act differently first in order to provide a basis for change amongst their teams, while understanding that everyone sees and experiences things differently.
PPI also presented the 2019 Technical Achievement Award to Gary Fischer, General Manager, Special Projects at Chevron Corporation. Mr. Fischer has spent 30 years in Chevron's capital projects organization and has held a variety of technical and executive positions across downstream, chemicals and upstream. During Mr. Fischer's career, he provided functional expertise to improve project team effectiveness and created best-in-class approaches for the execution of Chevron's worldwide major capital projects portfolio.
The Institute gave the award to Mr. Fischer in recognition of the leadership and general excellence he has exhibited in Chevron's evaluation and implementation of Project Production Management and digital transformation on major capital projects.
TRACK ONE – Production System Optimization
Track One explored the Project as Production System construct in more technical detail, illustrating how various tools developed over the last twenty years are used to define, design and optimize project production systems. A key theme addressed how emerging digital technologies are already changing how PPM is implemented.
Track One on Production System Optimization had two key messages.
Why Production System Optimization? To make project delivery easier, projects more productive, PPM provides a comprehensive, repeatable framework for more predictable project outcomes.
What is Production System Optimization? PSO allows the mapping of the process in sufficient detail to be able to model, simulate and predict its behavior. A project schedule is NOT a process map. Operations Science drives the data requirements for the map.
Dr. Mark Spearman and Dr. James Choo gave a tutorial introduction to the basic operations science relationships governing production systems. Project Production Management was introduced as offering visibility on a few additional levers traditionally highlighted in conventional project management – variability, WIP and capacity. The track consisted of a case problem and a discussion of the historical evolution of project management, using the 3 Eras framework, as well as case examples.
Using an analytical model, Choo and Spearman showed that a project can come in more quickly and for lower cost without changing anything beyond how the Production System is modeled. However, before you can do a good job of controlling the system, you need to first optimize it. This includes defining, modeling, analyzing, and configuring the production system optimization.
To take the theory presented and make it real, Jim Craig, manager of Chevron's Project Production Management and Innovation Team, discussed his experience applying PSO to develop qualitative and quantitative assessments. By putting Operations Science and PPM in play, the teams are able to focus not just on what is built and when it's built, but also on how it's built. The teams can also calculate the optimal amount of WIP, capacity requirements and capacity utilization. The results experienced – reduced project cost and time and increased cash flow – led to the decision that Operations Science/PPM will be the basis of Chevron's project management system going forward.
The afternoon session of the track was comprised of real-life examples of the application of PPM. For example, Nelia Mazula, National Account Manager, Siemens, discussed her thoughts on the relationship between Digital and PPM, specifically where digital can be applied to streamline and increase the efficiency of a capital project.
TRACK TWO – Computer-Aided Production Engineering
The second track, designed for participants with experience in PPM implementation, focused on Computer-Aided Production Engineering (CAPE) and how digital prototyping can further its application. In addition, the track also described the application of CAPE to process design and validation.
Todd Zabelle, founder of PPI, along with PPI instructor Roberto Arbulu and invited speaker Alex Kunz, discussed Digital Prototyping in Support of CAPE as well as Process Design and Validation. Because of its roots in Operations Science, these advances are ushering in a new era of project delivery.
Zabelle provided an introduction, stating that currently we can understand when the work should be done (the schedule), but not what work should be done and how to do it. By using a computer-aided approach, production engineering can be applied early in the process, mitigating risk. The later you introduce production engineering, the more limited you are in the ability to make necessary changes.
Kunz discussed his experience in data centers working with companies such as Amazon, Google and IBM. The function of the data center is continually evolving and they were wondering why is it so hard for construction to keep up with shifting business requirements. He provided examples of how CAPE can be useful for combining product and processes to the design and construction of data centers.
Later in the session, Roberto Arbulu was joined by Kunz and Craig Evans of Chevron to describe the benefits of applying CAPE to process design and validation. They covered two real-life case examples. The first was an example from a current major oil & gas capital project where they went through the process design of constructing oil pipeline expansion loops, examining in great detail the question "how are you planning to build it?" Arbulu then moved on to a second case example, the global deployment of charging infrastructure for Electric Vehicles, describing examples where careful design choices in product design can decouple local variability at different sites, while improving constructability of the infrastructure. He invited PPI Industry Council member Kerry Haley, who also worked on this project, to comment on the process design considerations. There was further discussion about how the CAPE methodology focuses on understanding the details behind the product design in order to make the production design more precise. A key takeaway is that it is not just having the right product, but also the right product design process – CAPE enables this.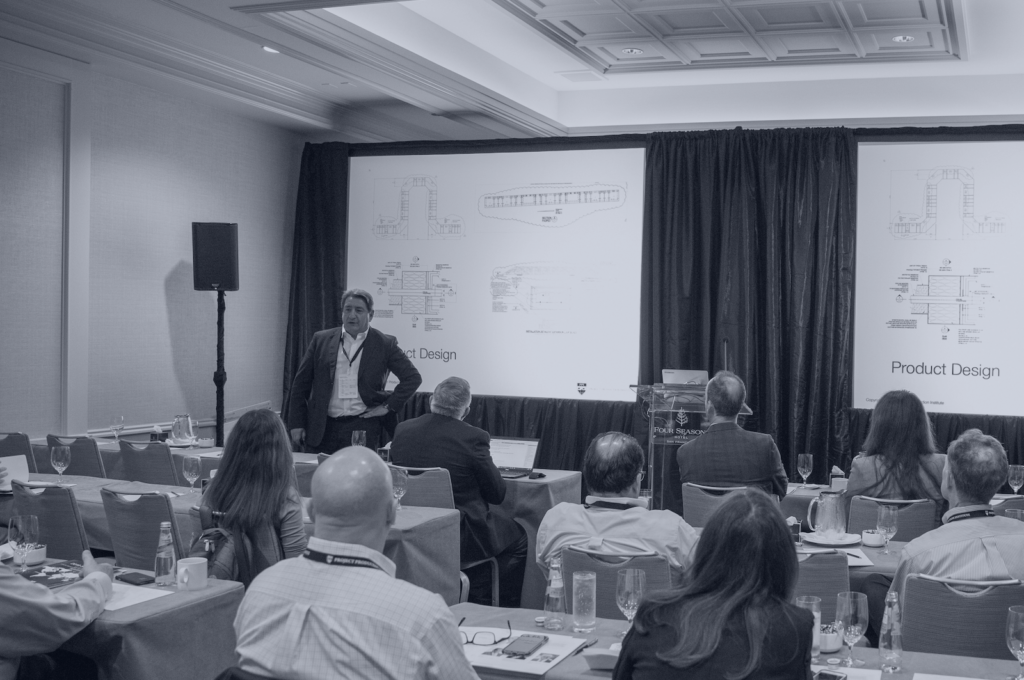 The 2019 Symposium concluded with PPI Executive Director Ram Shenoy presenting a synopsis of key messages from the presentations of the day. He described the Institute's calendar of events for 2020 and reminded the audience of the different Institute resources available from the PPI website, such as the glossary and technical journals.
Get the word out to your team to join the Institute and be on the lookout for news regarding the 2020 Symposium at the Commonwealth Club in San Francisco, as well as various other events and seminars that PPI has planned for this year.